Pi in the Sky free preview!!
Well, you asked to read the first chapter…how about the first SEVEN chapters? The full book won't be out until June 11th, but my ever-so-kind publisher is offering this sneak peek early. It's like a third of the book!
If you have any kind of e-reader it's easy to order it directly from whoever provides your ebooks, or Amazon (and probably other places) allows you to read it right on your computer as well. When you look it up make sure to add "preview" to the title or else you'll just get sent to the regular book. It should look like this: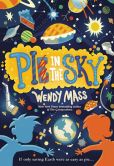 I can't wait to hear what you think!
On another note, I can't thank you all enough for your amazing insights on The Candymakers movie!! I'm still trying to keep up with posting all of them, and i had to leave out some due to spoilers, but the screenwriter sees all of them, so never fear. The Last Present is totally complete now, and off to press! I'm pretty sure i got all of your wonderful suggestions in there.
You guys are the BEST!!